Top 5 16 channel security system
There are 'n' number of companies out in the market today offering a complete range of high performance, 16 Channel DVRs that are designed to provide high quality images while conserving storage and network resources. From the economical options to the full-featured expensive ones, market today has a DVR to meet any application requirement.  These systems feature real-time playback and all units are capable of recording real-time high quality images across selected channels (if not possible on all channels). They come with convenient back-up feature as-well.
Let's have a look at 5 of the best 16 channel security systems available in the market today.
This 16-channel DVR package comes with 8 weather-resistant cameras with 720 TVL picture resolution. They deliver true daylight colour and clear night vision up to 25 meters. The system is easily customized for advanced monitoring and notification options. Samsung's 72° Wide Angle lens expands your recording coverage without compromising quality.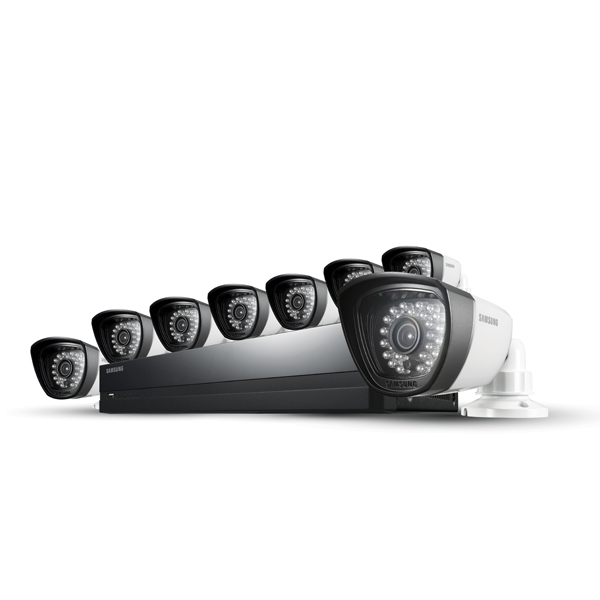 Now you can view your surroundings in stunning high definition with amazing 720p picture quality day & night. This easy-to-install NVR security system is ideal for your business or home. Its installation is simple, with a single sPoE Ethernet cable providing video and power to each camera. One the best feature of this kit is that it records more, saves more, and is compatible with more cameras, but still very affordable and easy to use.
This security system comes with a16 Channel NVR with 1080p high definition resolution. There are 6 Indoor/outdoor network cameras with 1080p lines of resolution and has 115' night vision capability. There are 2 Vari-Focal network cameras included as well with 100' night vision capability. 3TB SATA2 hard drives are part of this kit.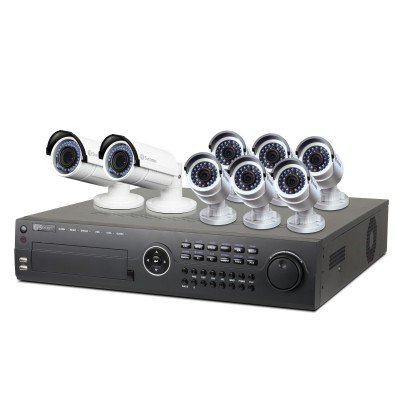 This security camera is very easy to use. Any novice can also easily install this camera and start using it. Funlux 16 Channel NVR 12 PoE 1280* 720P HD IP Network Security Camera system comes with 2 TB hard disk. This security surveillance system comes with the latest technology in IP security surveillance cameras. A 1280*720 pixel resolution gives a crystal clear view of the area to the viewer.
The Eco Security camera system provides peace of mind and dependability without being too tough on your pocket. You can record in real-time on every channel and view on three monitors at the same time. With internet and remote connectivity available on today's major mobile devices, the Eco Security DVR makes sure that you are always aware of what's going on in your world.
Watch over your world with the included Lorex weatherproof night vision security camera for home. This system handles both night and day operation by using built-in infrared filters that achieve accurate colour representation in varying lighting conditions.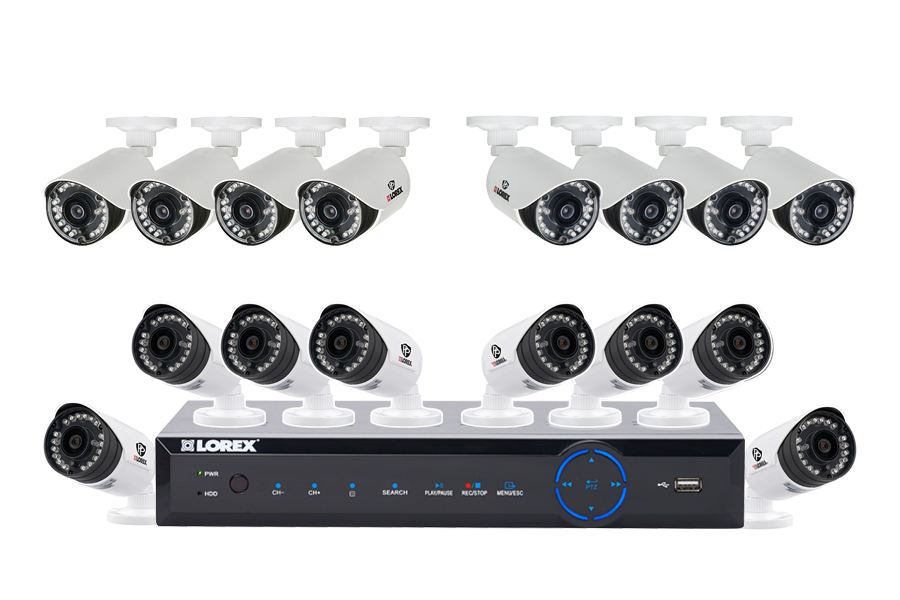 Comparison between these 5 products
| | | | | | | |
| --- | --- | --- | --- | --- | --- | --- |
| Camera | Recording Rate/Resolution | USB ports | Smart phone viewing | Night Vision | Cameras | Price |
| Samsung SDS-P5082 | 720x576 | 2 | Yes | Yes (25 m) | 8 | $699.99 |
| Swann's | 1080p | n.a | Yes | Yes (30m) | 8 | Not available now |
| Funlux 16 sPoE | 1280x720 | 2 | Yes | Yes (20m) | 16 | $999.99 |
| Funlux 12 PoE | 1280x720 | 2 | Yes | Yes (20m) | 12 | $799.99 |
| Lorex | 960H | n.a | Yes | Yes (40m) | 16 | $799.99 |