Top 5 8 Channel DVR Security System
Security cameras nowadays are not a luxury but a necessity, and it is for this very reason that more and more cameras are being installed every day. These cameras are a big deterrent to thieves and burglars who know that their every move is being monitored by such cameras. In case a crime does get committed, it becomes much easier to catch the culprit if your premises are protected with CCTV. Whether it is your home or your business premises, it is very important that you protect your property and your family and loved ones from all kinds of danger by installing security cameras.
Among all the security systems available, the top 5 8 channel DVR Security systems are:
This security camera has superior resolution quality that capture distortion free images through which one can get a live view of the video footage or record it to be played back later on.
Features
Storage capacity is Up to 1x 2TB
Has infrared vision that can extend from 65ft to 80ft
The camera is weather proof and operates in a temperature range of 14°F~122°F / -10°C ~50°C
Has remote viewing capabilities
Has Built-in IR-Cut for color clarity in all kinds of lighting conditions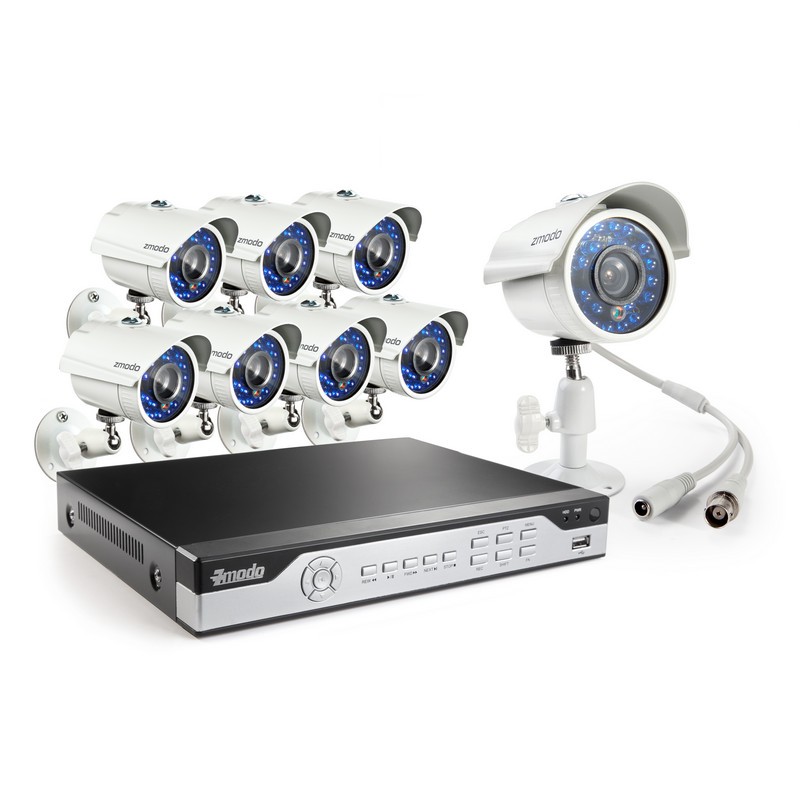 The security camera brings together all the latest and necessary features together to give you a prefect product. It has a QR-Code scanner that leads to easy connection to a PC, table or smart phone.
Features
Has a storage capacity of up to 4 TB
The best operating temperature for this camera is 32°F~122°F / 0 °C to 50 °C
Remote viewing is possible through smart phones and tablets as well
Pixel quality is PAL: 967H×494V NTSC:960H×582V
Has night vision from 65ft to 80ft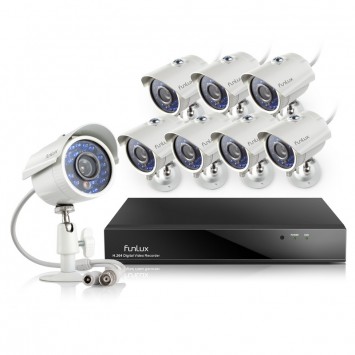 This security camera from Swann has all that is needed to protect a home! With the help of the 8 channel DVR, it will be very easy to keep an eye on all the important places in a property.
Features
Has a pre installed hard drive of 2TB
Remote viewing is possible through tablets or smart phones
Comes equipped with night vision of up to 115ft or 35m
Has IR cut filters that give clear, Full HD images with a resolution of 1920 x 1080 pixels
Has weather resistant rating of IP66 for usage both indoors and outdoors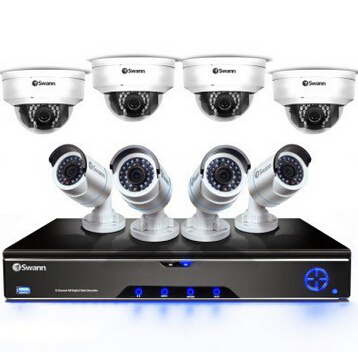 This camera by Funlux has great image quality and features a high resolution camera that captures clear and sharp images.
Features
The camera is weatherproof along with a rating of IP 65
Remote viewing can be done by connecting it to a PC or smart phone
Features infrared night vision up to 80ft
Has a hard drive capacity up to 4TB
Pixel quality is PAL: 967H×494V NTSC:960H×582V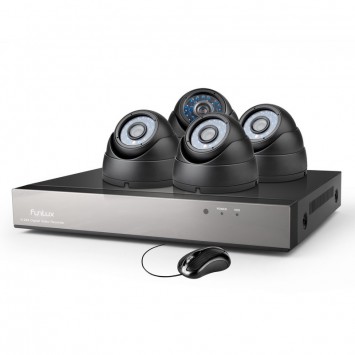 In case you want to get all the important features of a security camera system at a fairly reasonable price, then there is no better option than this budget system that is sure to exceed your expectation in every way possible! This DVR system gives a user the flexibility to view footage later on and also to store it in case there is a crime.
Features
Remote access through a smart phone is possible
The extend of the night vision is up to 50ft
Comes with a 500GB HDD
Is weatherproof and can be placed outdoors and indoors
The pixel quality is fairly good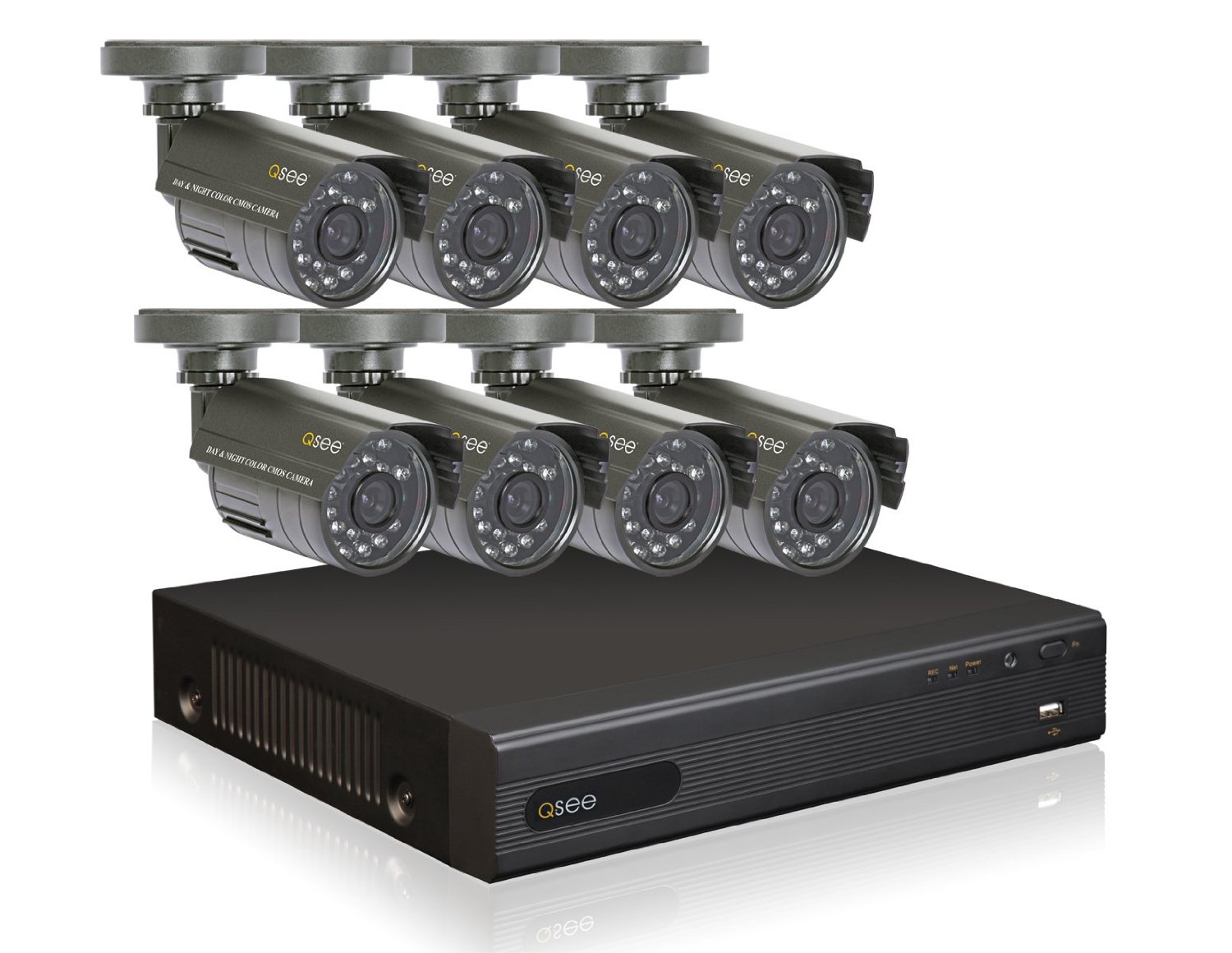 Comparison between these 5 products
HARD DRIVE

REMOTE VIEWING

NIGHT VISION

WEATHERPROOF

PIXEL QUALITY

ZMODO

Hard drive capacity is up to 1x 2TB

Remote viewing is possible through PC, tablet or smart phones

Infrared vision extends from 65ft to 80ft

Optimum temperature range is 14°F~122°F / -10°C ~50°C

Pixel quality is good

SWANN

Hard drive capacity is 2TB

Remote viewing is possible through PC, tablet or smart phones

Infrared vision extends up to 115ft or 35m

Has weather resistant rating of IP66

Pixel quality is 1920 x 1080
(Full HD)

FUNLUX HOME SECURITY SYSTEM

Hard drive capacity is up to 4TB

Remote viewing is possible through PC, tablet or smart phones

Infrared vision extends from 65ft to 80ft

Optimum temperature range is 32°F~122°F / 0 °C to 50 °C

Pixel quality is 967H×494V NTSC:960H×582V

FUNLUX SURVEILLANCE SYSTEM

Hard drive capacity is up to 4TB

Remote viewing is possible through PC, tablet or smart phones

Infrared vision extends up to 80ft

Has weather resistant rating of IP65

Pixel quality is 967H×494V NTSC:960H×582V

Q-SEE

Hard drive capacity is up to 500GB

Remote viewing is possible through PC, tablet or smart phones

Infrared vision extends up to 50ft

Is weatherproof and can be used indoors and outdoors

Pixel quality is good