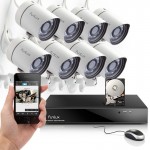 Funlux 8 CH sPoE NVR with 8 720P Cameras Security System with 1TB Hard Drive
Great system that's easy to use
This is a great system that's easy to use. I have had it installed for a week now and so far I am very pleased with the quality and the performance. The video quality is very good and the system was very simple to install and set up. I like that there is only one cable to run to each camera, meaning you simply plug them in and they connect automatically - very user-friendly. Initally, I was considering a 4 camera system, but eventually decided to get the 8 camera system instead, and it's definitely worth the extra money. I installed 6 cameras around the outside of the house, and 2 more inside so we can keep an eye on the children while we are working. This has given us great peace of mind. The motion alerts are really good, and the software gives you a snapshot with a timestamp, which makes watching the video much faster. You can also replay video from your mobile device, which is really convenient. The night vision is great when there is no light, but if there are bright street lamps or other lights within the camera range then this can affect the video quality. The only improvements that I could suggest are slightly better instructions (although it was very easy to install and set up), and a tweak to change the fact that currently you have to select HD mode every time you view a different camera on the iPhone. Overall, I highly recommend this system - it is great value and high quality.

---
Installation was easy, and it works great
Installing this sytem was really easy, and overall it works excellently. The image is clear and crisp at night to a range of 35-40 feet, and even better during the day - to roughly 75 feet. There are plenty of customisable settings for all four cameras - some include alarms triggered by movement, as well as frequent movement boxes, so for example, you can block off a road so it won't trigger alarms for every passing car.

---
Nice system Review
I bought this system two weeks ago, and started installing it last weekend. The shipping is very fast, which is nice. Overall, it's a great system, and the image quality of the cameras is good. Installation was very simple. I would criticise the ethernet cables provided, as they are very thin and look rather cheap. Also, the mount bracket base should be a little bigger, so that the base plate can cover up the hole drilled to run the cable through, for a better looking result. Overall, I am very happy with the system.

---
Easy to install... Does what it says....
I have been using this system for over a month and I am very happy with it. It was very easy to install and the picture quality is surprisingly good, especially for a cheaper system like this one. I like knowing I can view my cameras any time, anywhere, from my phone. I have had issues with the app crashing but overall I am very satisfied.

---
Great self-contained, PoE surveillance system!
This is a great self-contained PoE surveillance system! It's very good value for the price. The mobile app could be a little more intuitive, it's not that easy for multiple users to access the cameras remotely, but as long as you all use the same email address then it works fine. If you need to keep more than 30 days on the DVR's drive, then it's worth getting a 1TB hard drive, or using the USB port to archive data externally. Overall, it's a great system, a bargain at the price, and highly recommended.

---
Amazing
This system is amazing! Real-time is smooth and fast, the iamge is high quality, and the recordings are great. I recommend this to anyone.


---